2021 – 2022 TAAT Annual Report
Pages: 48
Doc type: pdf
Size: 31MB
This report is a production of the TAAT Program Management Unit and the TAAT
Clearinghouse. The Editors received contributions in stories and photos from TAAT Compact
Coordinators. The TAAT Communications Unit provided complimentary photographs
included in this report.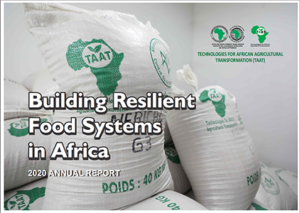 2020 Annual Report
Pages: 46
Doc type: PDF
Size: 14.3
The program's achievements in 2020 are exhibited through success
stories showing how TAAT is building a pathway to transformation and
resilience through the deployment of proven agricultural technologies
for large scale adoption across the continent and by building sustainable
knowledge infrastructure with public partners. The information
highlights tangible results and first-hand accounts of how TAAT is
helping rural farming communities
2019 Annual Report
Pages: 94
Doc type: PDF
Size: 6.9MB
Technologies for African Agricultural Transformation (TAAT) program is funded by the African Development Bank in an effort to increase agricultural productivity in Africa through the deployment of proven and high-performance and climates smart agricultural technologies.
2018 Annual Report
Pages: 66
Doc type: PDF
Size: 4.3MB
TAAT in 2018: Preparing For African Agricultural Transformation
Origin and Foundation of TAAT
Vision of success
TAAT Program Implementation Structure
TAAT Program startup and coordination of Program activities
The Concept of Technology Toolkit and its role in Scaling Up
Partnerships for Technology Delivery
Monitoring, Evaluation and Learning Framework
Technology deployment in 2018
Activities of TAAT Technology Delivery Compacts
Enabler Compacts as a Unique Feature of TAAT
Communicating technology delivery
Conclusion and Plans for 2019
TAAT Financials for 2018
Who's Who in TAAT in 2018
TAAT Updates 2018 Issue 001
Pages: 60
Doc type: PDF
Size: 5.3MB
TAAT celebrates 143 Interventions in 132 Sites across Africa
TAAT Approach to Combating Fall Armyworm Offers Hope to Millions of Smallholder Farmers in sub-Saharan Africa
TAAT's Business Platform approach boosts access to High Iron Beans in Zimbabwe
How TAAT's deployment of feed resources is meeting Ethiopia's livestock needs
TAAT records increased food production and income through maize technologies