2021 – 2022 TAAT Annual Report
Pages: 48
Doc type: pdf
Size: 31MB
This report is a production of the TAAT Program Management Unit and the TAAT
Clearinghouse. The Editors received contributions in stories and photos from TAAT Compact
Coordinators. The TAAT Communications Unit provided complimentary photographs
included in this report.
Deployment of Maize Technologies in Western Kenya – An Outcome Case study report:
Pages: 19
Doc type: PDF
Size: 861KB
An Outcome Case Study Report
Deployment of Combined Technologies to Smallholder Farmers in Kenya
Pages: 16
Doc type: PDF
Size: 4.74MB
The Clearinghouse has identified opportunities to better respond to the needs of smallholder farmers who always plant multiple crops in mixed cropping systems and integrate them with animal enterprises. Agrodealers serving them must also stock several technologies. However, the work program of TAAT has been designed around Compacts focusing on single value chains or single cross-cutting themes. As the Coordinators of the Maize, Bean, Sweet Potato, Small Livestock and Policy SupportCompacts, and the Technical Adviser of the Youth in Agribusiness Compact are all located in Nairobi, Kenya, the Clearinghouse encouraged the design of combined toolkits to respond to the needs of small-scale farming customers, and for youth groups to capitalize upon agribusiness opportunities from these technologies.
TAAT records transformational breakthroughs in African agriculture as Phase I ends – Taat-Africa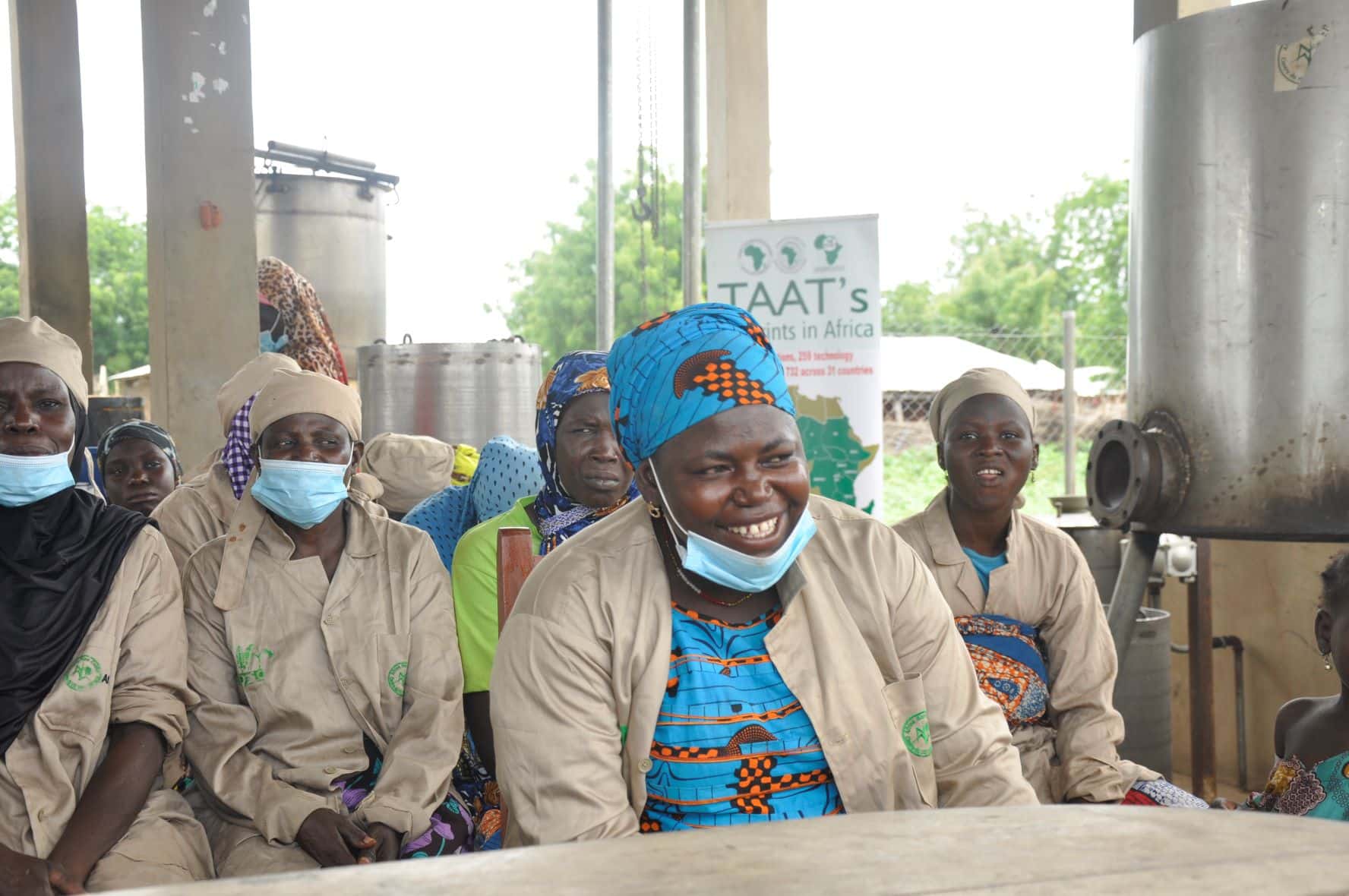 Stakeholders in African agriculture have hailed the string of remarkable achievements recorded by its Feed Africa flagship programme, the Technologies for African Agricultural Transformation (TAAT). This was made known on Friday at the just concluded Project Closing Mission of the programme's first phase.
Launched in 2018, the programme aims to double the productivity of crops, livestock and fisheries by making proven technologies available to more than 40 million agricultural producers by 2025. This will produce an additional 120 million tonnes of food and lift 130 million people out of poverty.
The closing mission for the first phase of the programme comprised representatives of the African Development Bank and those of international agricultural research institutes and technical institutions led by the International Institute of Tropical Agriculture (IITA), the lead executing agency for the programme.
In an address delivered by Innocent Musabyimana of the African Development Bank, TAAT, in its first phase, has achieved its developmental objective by rapidly expanding smallholder farmers' access to high-yielding agricultural technologies that improve their food production, ensure food security and raise rural incomes.
According to Mr Musabyimana, "TAAT has worked across 28 African countries in just three years, deploying 76 proven agricultural technologies across 15 crops, reaching 11 million farmers, and expanding food production by over 12 million metric tons."
"Indeed, TAAT is the game-changer for African agriculture as it has saved countries' food imports worth $814 million," Musabyimana added.
Dr Kenton Dashiell, IITA's Deputy Director General, partnerships for delivery, commended giant strides recorded by TAAT. He added that "successes recorded in the implementation of the TAAT programme prove that increased investments in innovative technologies can help boost agricultural productivity, with significant results for the overall strength of African food systems."
The TAAT Programme Coordinator, Dr Chrys Akem, stated that right from 2018, TAAT and partners have accelerated technology deployment along priority commodity value chains. These efforts, according to him, "have addressed the challenge of low yields by tackling transversal problems that have plagued the agricultural sector for decades."
Reeling out some of the outstanding achievements of the programme in selected value chains and countries, Dr Akem announced that the programme had enabled 12 million farmers across the continent to receive drought-compatible technologies while delivering NERICA rice varieties to 3.2 million households across Africa. "Advanced Rice Varieties for Africa (ARICA), ORYLUX (aromatic) and SAHEL (adapted to the stress conditions of the Sahel ecology) and hybrids have also been delivered on a large scale."
For wheat, Dr Akem revealed that TAAT financed the provision of 65,000 metric tons of heat-tolerant wheat varieties, which Sudanese farmers grew on 317,000 hectares, and in just two years, Sudan reduced its wheat import by 50%.
He added that TAAT further financed the provision of 61,000 metric tons of seeds of heat tolerant wheat varieties to farmers in Ethiopia. "The farmers cultivated 5,000 hectares of these heat tolerant wheat varieties in 2018, expanded to 167,000 hectares two years later, and by this year, they had grown 400,000 hectares.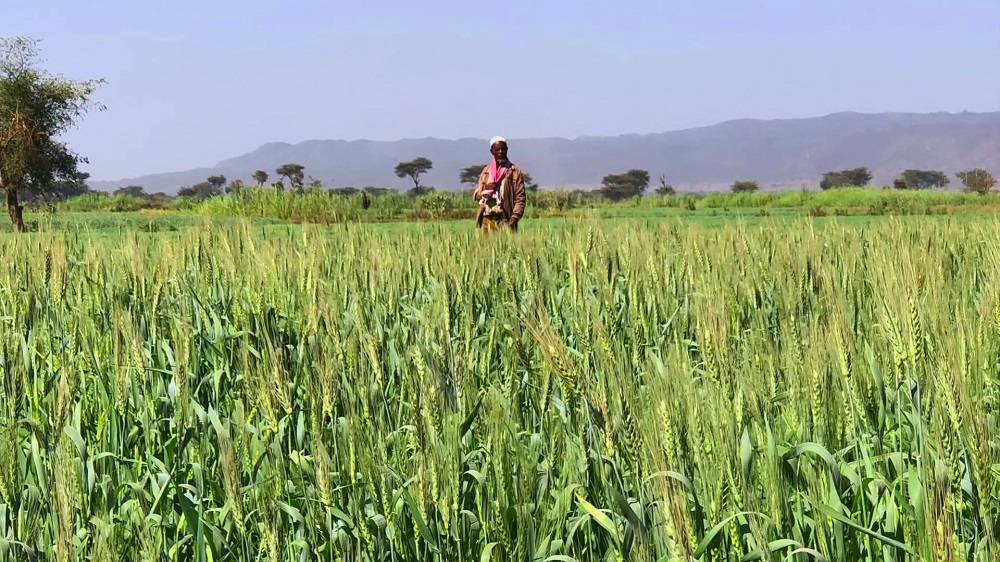 Dr Akem recalled that when drought hit the Eastern and Southern Africa regions, TAAT came to the rescue. "We deployed drought-tolerant maize varieties which were cultivated by 5.6 million households on 841,000 ha, and as a result, farmers survived the drought from Zimbabwe, Malawi and Zambia, allowing maize production to expand by 631,000 metric tons, with a value of $107 million." "we equally led a collaboration with 15 private sector seed companies in deploying 6,000 MT of water-efficient maize varieties treated with specialised dual-purpose pesticides with demonstrated capabilities to control Fall Armyworm.
In other commodities like Cassava, High iron Beans, Orange-fleshed Sweet Potato, Sorghum and Millet, Dr Akem stated that TAAT has deployed several path-breaking, climate-resilient technologies ranging from high-yielding varieties, good agricultural practices, mechanised farming techniques, agro-processing tools to integrated soil fertility inputs.
Through its emphasis on capacity building in Better Management Practices (BMPs) on feed formulation, breeding, improved fish and livestock rearing systems, and value chain development, the programme has contributed to increasing technical know-how, boosting production, and improving food and nutrition security.
Dr Akem revealed that over 23,000 fish farmers across Africa had been trained on cutting-edge technologies, with over 159 million fingerlings of catfish and tilapia of improved brood stock produced and distributed, resulting in productivity gains of over 60,000 MT worth about $188 million.
According to the TAAT Programme Coordinator, these achievements wouldn't have been made possible without the TAAT ecosystem of partners, which comprises development partners such as the BMGF, IFAD and national and international research centres such as the National Agricultural Research Systems (NARES) and the Consultative Group on International Agricultural Research (CGIAR) centres.
As the programme looks forward to its second phase of implementation, stakeholders at the closing mission affirmed their commitment to intensifying efforts in helping countries mobilise resources to build resilience in their food systems, work with governments, research and academic institutions, the private sector and civil society to increase skills and capacity in African agriculture.
TAAT wins National Association of Black Journalists Salute to Excellence Award – Taat-Africa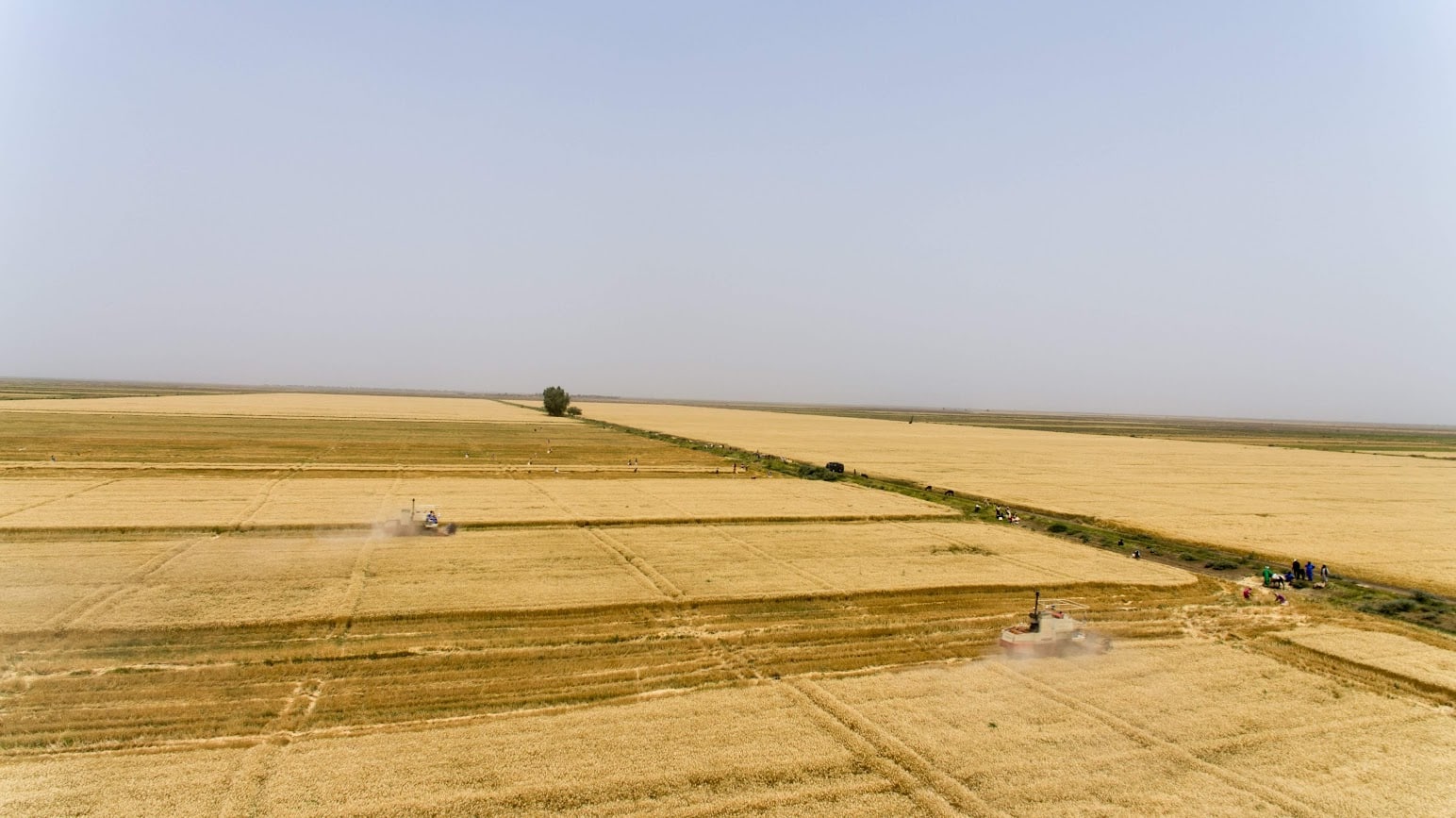 America's largest organization of journalists and media professionals of colour has named the African Development Bank a "Salute to Excellence" award winner for the Bank's communication around its Technologies for African Agricultural Transformation (TAAT) programme.
The National Association of Black Journalists cited the Bank's excellence in online media relations and marketing about the landmark initiative, also known as TAAT. The online campaign featured the impact of TAAT delivering climate-smart agricultural technologies to millions of African farmers, helping African nations grow more food.
The awards were announced on Saturday at a gala event during the joint convention of the National Association of Black Journalists and the National Association of Hispanic Journalists at Caesars Palace in Las Vegas, Nevada.
"This recognition from the National Association of Black Journalists comes at a time when African and global food security are at risk due to Russia's war in Ukraine. The communications effort help tell the world, through the stories of African farmers participating in the TAAT programme, that Africa has solutions to boost its food production and reduce dependence on grain imports from the Black Sea region," said Dr. Beth Dunford, the Bank's Vice President for Agriculture, Human and Social Development.
"The Salute to Excellence award also honours Bank staff, consultants and partners working within these communities to improve the quality of life for the people of Africa. Their expertise helped shape our communications campaign," Dunford added.
In July, the Bank's Board of Directors approved $30 million in new financing for the TAAT programme, which overall aims to increase Africa's food output by 100 million tons and lift 40 million people out of poverty by 2025.
The Bank's digital campaign showcases some of the millions of African farmers benefitting from TAAT-funded, climate-adapted wheat, maize and other certified seed varieties, fertilizers and technical support since the program started in 2018.
The campaign's lead video looks at TAAT operations in Sudan and Ethiopia, where government-led collaboration with the Bank and partners is scaling up wheat production to record-breaking levels.
In Ethiopia, TAAT helped seed companies to produce and distribute enough heat-tolerant, certified wheat varieties and helped farmers to expand production across more areas last season, allowing Ethiopia to grow enough of the grain to eliminate wheat imports for the first time in modern history. The country's embrace of TAAT should see Ethiopia export wheat in 2023.
The National Association of Black Journalists' Salute to Excellence award is the third international communications recognition for the Bank's TAAT initiative. TAAT earned a "Gold Stevie" – first place – for "Best Documentary" from the International Business Awards, as well as a "Communicator Award of Distinction" for online video from the New York-based Academy of Interactive and Visual Arts.
"We intend for TAAT to produce more success stories as we scale it up to have a central role in the Bank's $1.5 billion African Emergency Food Production Facility. The Facility is the Bank's bold response to help African nations produce more food to mitigate the impacts of Russia's war in Ukraine on global food systems, rising prices across the continent, and climate change," said Dr. Martin Fregene, the Bank's Director for Agriculture and Agro-Industry.
"We believe communications is key to informing African governments, our stakeholders and investors about the impact of the Bank's programs in the communities we serve," Fregene added.
The Bank was also nominated for a Salute to Excellence Award in the competition's "online commentary" category for a selection of published op-eds authored by Bank President Dr. Akinwumi A. Adesina, Vice President Dunford and former Acting Vice President Wambui Gichiri.
The Salute to Excellence Awards recognize journalism and communications that best cover the Black experience or address issues affecting the Black community worldwide.
The National Association of Black Journalists and National Association of Hispanic Journalists' Convention & Career Fair is the premier conference for journalism education, career development, networking, and industry innovation, attracting leaders and influencers in journalism, marketing and communications, media, technology, business, health, arts, and entertainment.
Growing water-efficient and climate-smart maize has changed my life – Kenyan farmer – Taat-Africa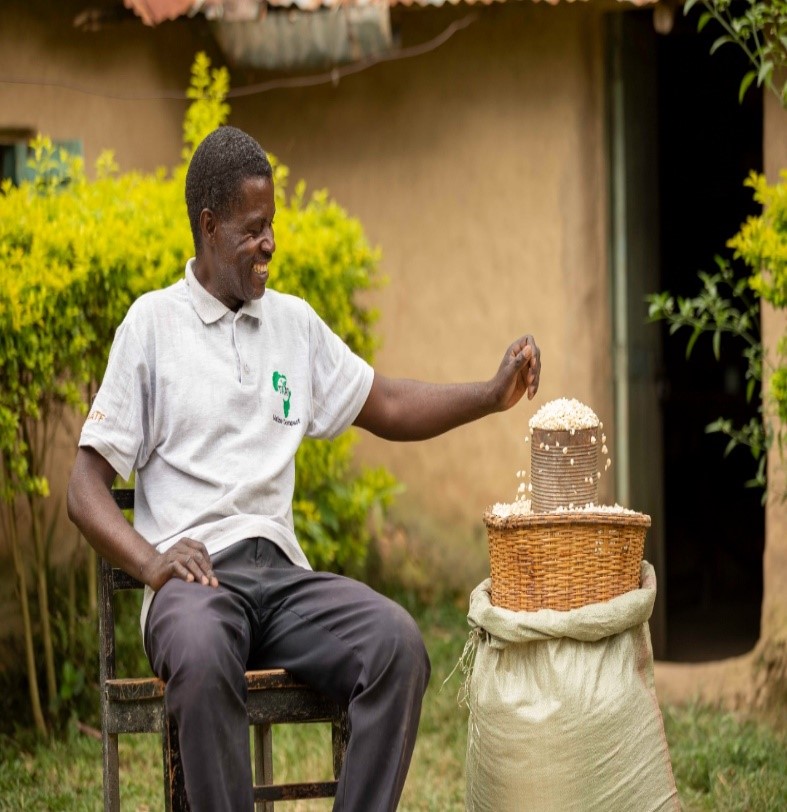 When he bumped into his former primary school classmate along the roadside way back in 2013, the meeting was meant to be a normal catch-up conversation between peers.
Having parted ways after finishing primary school in 1986, Stephen Melchizedek and Margaret Awinja went down memory lane. During their conversation, Margaret was keen to know what Stephen had been doing with his life after they left school.
Unlike Margaret, Stephen could not proceed with his studies due to a lack of school fees. This forced him to join his father in doing menial jobs to support the family. He would later work as a small-scale farmer in his Shirembe village, Kakamega County, in Kenya.
At the point of their meeting, Margaret, who upon completion of primary school, had proceeded to secondary school and after that acquired college education was now working as the coordinator of Western Region Farmers Network (WEREFANET), a local Community-Based Organization (CBO) in Kakamega County.
"She introduced me to her organisation that was working with different groups of farmers across Kakamega County. Given my work as a priest and the influence I have in our area, she tasked me to bring together farmers to form a CBO where we could learn how to improve our farming activities," Stephen narrates.
Without hesitating, Stephen moved with speed and marshalled farmers through his local church and within a short period, Shirembe Tuinuke CBO was established with him as the coordinator. The group was to be an affiliate of the larger WEREFANET that Margaret heads.
Shirembe Tuinuke CBO works with 41 farmers from the Shirembe sub-location and a total of 800 farmers from the larger Butere Sub-county. Stephen says that the members' farming practice improved over time, and they witnessed specific changes when they were introduced to the Maize Compact of Technologies for African Agricultural Transformation (TAAT).
"In 2014 through WEREFANET, we were introduced to WEMA project which has helped farmers from this region improve their maize production," he points out, adding that being small-scale farmers, they usually operate with limited farming knowledge and poor agricultural practices.
At 61, this father of four says that the WEMA Project trained all the Shirembe Tuinuke CBO members on the recommended good agricultural practices and changed their way of doing agriculture.
"In February 2021, we had a training organized by TAAT Maize Compact (TMC) on post-harvest management. Through such training, we have learnt how to handle, store and even transport our maize produce to the market," he explains.
To help smallholder farmers like Stephen address challenges related to maize production, the African Development Bank launched the TAAT Maize Compact in 2018 to disseminate at scale, water-efficient and other climate-smart maize varieties and complementary technologies across 11 countries in Africa.
Led by the African Agricultural Technology Foundation (AATF), TMC promotes high-yielding, climate-smart maize varieties and accompanying technologies to increase productivity and improve household income among smallholder farmers in Kenya, Uganda, Tanzania, Ethiopia, Rwanda, Zambia, Zimbabwe, Nigeria, Ghana, Cameroon and Benin.
Since 2014, Stephen has planted the WE1101 maize variety that was promoted under the WEMA project. He prefers WE1101 over local varieties he has been planting for years due to its fast maturity and good husk cover on the cob that protects the grain from being damaged by birds and strong stems.
"The best thing about this maize is that it is sweeter than the other varieties, the maize plants are strong, and so they are not affected by wind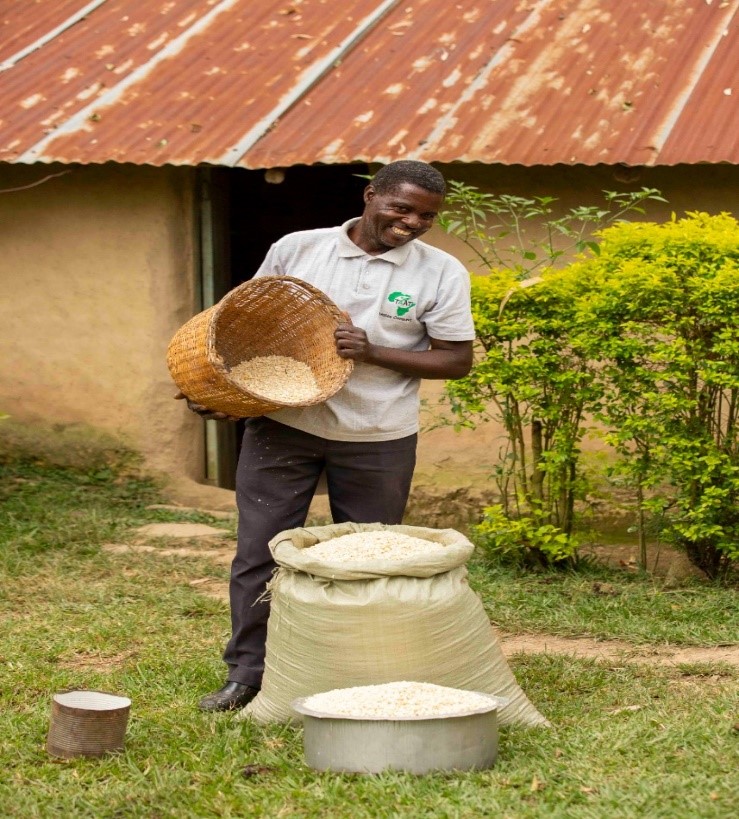 or heavy rains; their cobs remain closed until harvesting time," he says. He explains that during the second planting season in 2020, he harvested 11 bags of maize from his quarter-acre land.
This is a far cry from the three bags of maize he used to harvest before he started using hybrid seeds. Stephen later sold six bags at Ksh 2,200 (approximately $ 22) each, with the proceeds going towards paying school fees for his daughter in high school. He kept the remaining five bags for family consumption. He quickly points at the cow he recently bought from the sale of maize harvested from the first season in 2020.
Stephen's story mirrors those of his group members who confirmed that their livelihoods have improved since they began planting the WE1101 hybrid seeds. The varieties are water-efficient, tolerant to moderate drought, and fast maturing. The maize variety was approved for commercial release to farmers in 2013 in Kenya under the trademark DroughtTEGO.
According to Dr Munyaradzi Jonga, the TMC Leader at AATF, the maize technology toolkit being deployed and promoted comprises elite Water Efficient Maize for Africa (WEMA) varieties such as WE1101, Drought Tolerant Maize for Africa (DTMA), Stress Tolerant Maize for Africa (STMA) and NARS breeding programmes. Others include appropriate fertilizer blends, efficient pest, disease and weed management, post-harvest management and mechanisation of farming operations.
"Implementation of this toolkit will significantly improve the productivity of maize production," he explains, adding that the goal is to create more demand for these maize technologies and improve household incomes.
Experts predict that with global changes in climate, regions such as East Africa are likely to be disproportionately affected by drought, making the need for resilient seed varieties paramount to improve farmers' livelihood.
By George Achia
TAAT Receives Gold Stevie® Award in 2021 International Business Awards® – Taat-Africa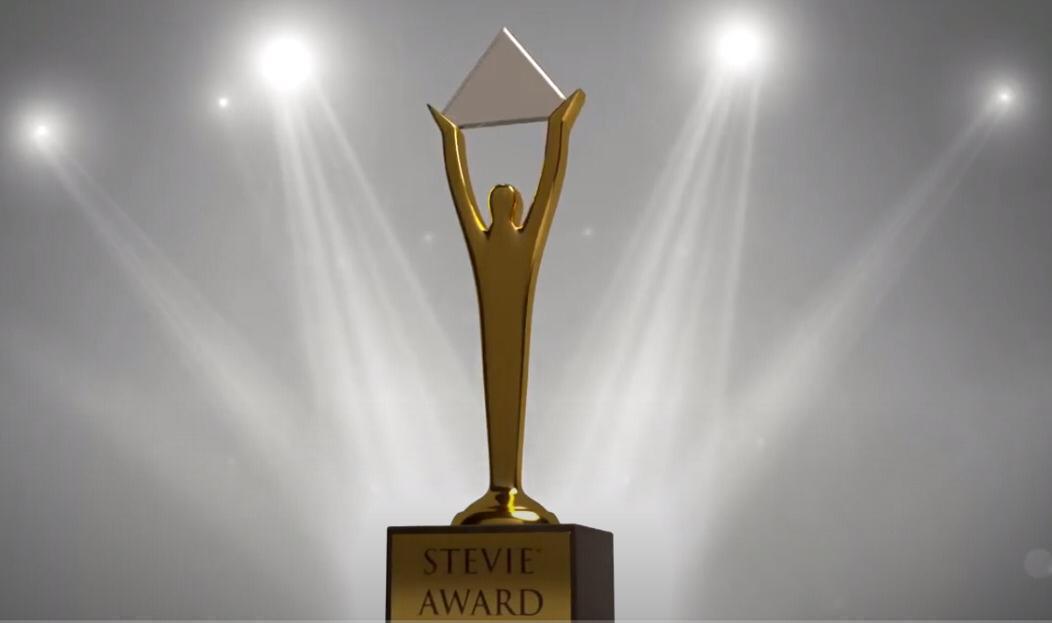 The African Development Bank received a first-place "Gold Stevie" at the 18th Annual International Business Awards virtual event, in recognition of the institution's digital campaign showcasing its Technologies for African Agricultural Transformation (TAAT) initiative.
The International Business Awards honoured the Bank in the Best Video – Documentary category during an online ceremony Wednesday. TAAT's wheat compact video led a series of clips demonstrating how TAAT is delivering agricultural technologies to help 11 million smallholder farmers across 30 African countries increase productivity and adapt to climate change.
"The Gold Stevie recognition solidifies the African Development Bank's commitment to balance the narrative about the continent, by sharing success stories about efforts to feed Africa and improve the quality of life for the people of Africa," said Dr. Beth Dunford, the African Development Bank's Vice President for Agriculture, Human and Social Development.
"We're scaling up TAAT through our new 'Mission 1 For 200' financing facility that aims to mobilize $1 billion to feed 200 million Africans by 2025 – there are more stories to be told," Dunford added.
The Bank broadcast the TAAT video series in April during the 2021 High-level Dialogue on Feeding Africa, which hosted more than a dozen heads of state, global leaders, as well as thousands of online participants.
The 2021 International Business Awards, the world's only all-encompassing business awards competition, drew more than 3,700 nominations from 65 nations. Wednesday's virtual awards ceremony coincided with the close of the Tokyo Nutrition for Growth Summit, which explored the global challenge of malnutrition.
"As world leaders return from the Tokyo Nutrition for Growth Summit energized to accelerate progress on defeating malnutrition, we share this honour with our TAAT implementing and regional member country government partners working to produce more – and more nutritious – foods," said Martin Fregene, the Bank's Director for Agriculture and Agro-Industry.
Stevie Award winners were determined by the average scores of more than 260 executives worldwide who participated in the judging process from June through early August.
This 18th annual International Business Awards recognize outstanding organizations and highlight their positive contributions globally. Last year, the Bank earned a Gold Stevie for its 2019 Annual Report in the publication category and bronze for the Report's companion video.
This year's other award winners include Google, IBM, Yapi Kredi, DHL Express Worldwide, Dubai Municipality and Tata Consultancy Services.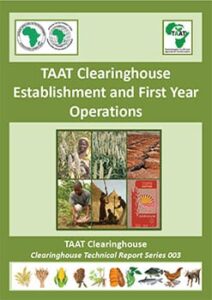 TAAT Clearinghouse Establishment and First Year Operations
Pages: 22
Doc type: PDF
Size: 3.03MB
A grant from the Bill and Melinda Gates Foundation (the Foundation) led to the rapid establishment and the effective operations of the Technologies for African Agricultural Transformation (TAAT) Clearinghouse Office in Cotonou, Benin during 2018. TAAT is a flagship program within the African Development Bank (AfDB) Feed Africa Strategy aimed at modernizing African agriculture through the advancement of agricultural technology in a way that improves the business of agriculture across Africa.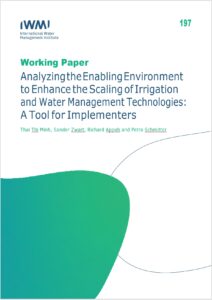 Analyzing the Enabling Environment to Enhance the Scaling of Irrigation and Water Management Technologies: A Tool for Implementers
Pages: 22
Doc type: PDF
Size: 3.18MB
Agricultural innovation scaling approaches tend to be empirical but do not sufficiently take into account the complex realities of 'softer elements' such as people, supply chains, markets, financing mechanisms, policies and regulations, professional knowledge, power relations, incentives and history. As a consequence, scaling initiatives often do not produce the desired impacts and, in some instances, may even produce undesirable impacts.